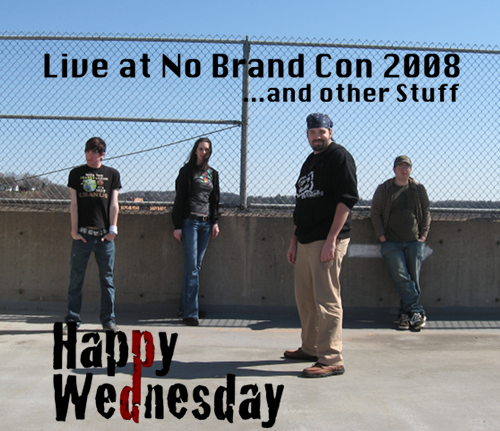 "Live at No Brand Con 2008 …and other stuff" is the only real "Happy Wednesday" CD ever released. Sadly it's been out of print for a while, so unless you know one of the few people who has a copy, you can't listen to this feast for the ears. Or something.
But worry not, as you can now download the whole thing for the low, low cost of zero dollars!
Most of this was (poorly) recorded at a performance at No Brand Con 2008 on 4/19/2008. Live at the Hopper sections were (again, poorly) recorded (in a basement) between 3/1/2008 and 4/15/2008. The studio album meant to follow this never got finished, so really - this is what's left of the (awesome) band Happy Wednesday.
---
Individual Tracks:
Live at No Brand Con 2008
(Italicized tracks are spoken portions of the performance)
Live at the Hopper
Bonus Tracks
Or Download the Entire Album!
---
Happy Wednesday was
Trae Dorn - Vocals
Matt Biedermann - Guitar
Katie Hatheway - Bass
Kevin Renstrom - Drums
"Gardening Ninjas"
Lyrics by Trae Dorn, Topher Marohl, Terence Clark, Kevin Tambornino
Music by Matt Biedermann and Trae Dorn
"Dead Birds," "Cyborg Alien Girl," & "Restorative"
Lyrics and Music by Trae Dorn
"Children's Song," "Free Bird," & "SANDWICH!"
Lyrics by Trae Dorn
Music by Matt Biedermann
"His Tentacled Glory"
Lyrics and Music by Matt Biedermann